P. J.
P. J. is a very sweet mixed breed bunny. We guess her age to be between 3 and 4. She is very reserved and shy but would flourish in the right forever home. A quiet and calm household would work best to help her gain the confidence we know she has deep inside.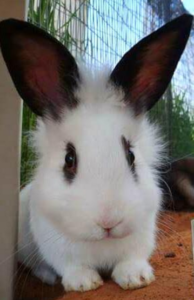 Archie
Archie is a 2-1/2 year old Lionhead/mix. He is neutered.
Archie loves supervised play time and has a big personalty hiding in a small body.
Leo
He is a young bunny. Probably around one year old. He has been neutered.
Leo can be shy at first. Once he warms up he loves to explore and chin everything in sight.
Wilbur
Wilbur is a Romeo.  He does have some dental issues so anyone considering adopting him will have to consider the expense of regular teeth maintenance. Wilbur loves people and hugs.
UPDATE: Wilbur has been adopted. We will miss hugging you!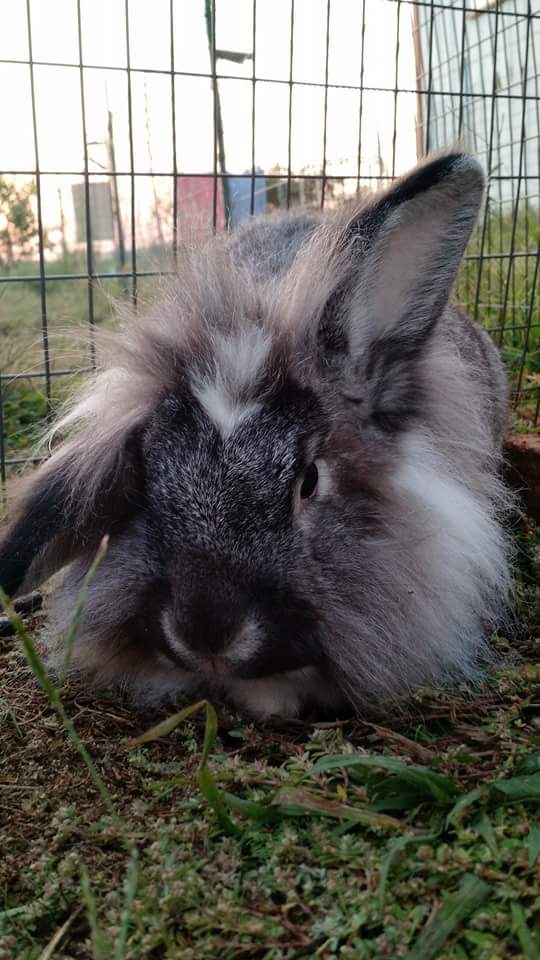 Griswold
Griswold is a Lionhead/mix.
He is a two year old neutered male. Griswold is very shy at first but once he is comfortable with you, he will zoom around doing binkys and allow ear rubs.
Tinkerbell
Tinkerbell is a year old spayed female Dutch bunny.
She has a loving spirit and enjoys visitors. Her motto is "Who wants to play?"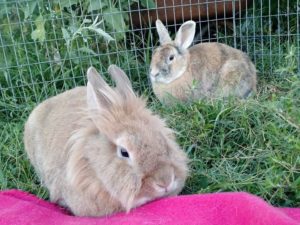 Ginger and McGruder
Ginger (in the foreground) is a Lionhead bunny between the ages of four and five. She is spayed and has a calm demeanor. McGruder is around the same age and is a Lionhead/mix. He does not have the mane like his brother and sisters. He is neutered. This is a lovely bonded pair, both with gentle personalities. They would do best in a quiet home where they can be the center of attention. These two love a cardboard box and keep their quarters tidy.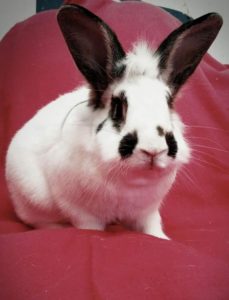 Jimbo
Jimbo is a real doll. He is a two and a half year old, neutered, Lionhead/mix. He is quite handsome and has delightful personality. Jimbo has numerous brothers up for adoption as well. They are all sweet and funny boys. Jimbo's motto is "Who brought banana?"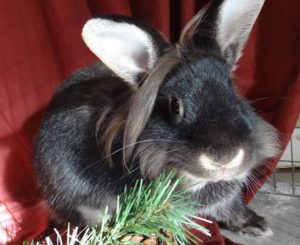 Fonzie
Yes he is smiling. Fonzie is a silly bunny that soaks up attention like a sponge. He is always willing to put on a show but takes his afternoon naps seriously.  The Fonz is a two and a half year old, Lionhead/mix. He has been neutered and is waiting for his forever home.
Audrey
Audrey is a young adult spayed female. Her exact age is unknown.
She is a Spot mix and a sweet girl. She enjoys play time and ear rubs as long as you give her a little time to get to know you first.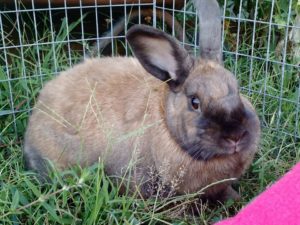 Bree
Bree is a young spayed female around a year old. She is a mixed breed bun with some Dwarf traits.
Bree is a little shy with strangers but will relax if you sit down with her and let her come to you.

Oliver
Oliver is a six month old neutered lop/mix. He is a lot of fun.
He loves to binky and wins the Gold in the racing competition of the bunny Olympics.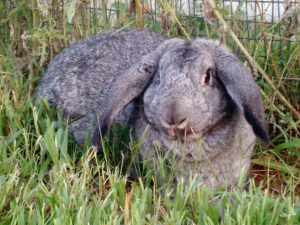 Violet
Violet is a beautiful lop/mix. Her exact age is unknown but she is probably less than three years old.
She has a serene personality and enjoys head rubs and treats.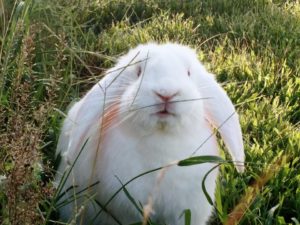 Casper
Casper is a six month old neutered lop/mix. Casper has a BIG personality to match those big ears.
He is an enthusiastic youngster who enjoys the attention of everyone who walks past his house.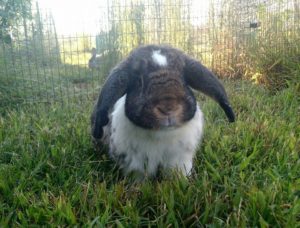 Bennie
Benjamin is a lop/mix. He is about two and a half years old. Bennie is an easy going bun who can be a bit on the shy side. He needs that special someone to make him feel safe and help his personality to blossom.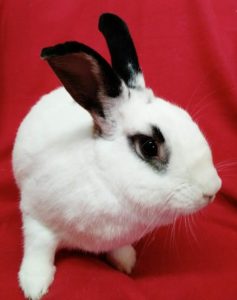 Carson
Carson is a lionhead/mix a few months shy of 3 years old. He doesn't have a mane like his brothers but is definitely part lionhead. He is a great little bunny that likes playtime and treats.

Buckley
Buckley is between three and four years old.
He is a mixed breed bunny on the smallish side with wonderful ears.
He  enjoys doing binkies, getting treats and lots of ear rubs.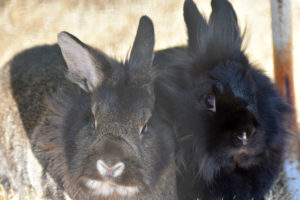 Roxanne and Pepper
These two charming Lionheads are brother and sister and tightly bonded. Around 5 years old, they have plenty of spunk and are a lot of fun. Both are shy but are quick to warm up to people. 2 very loving bunnies that would be a delight to share your home with. Pepper is the male and the all black bunny. Roxanne is female and has the beautiful agouti fur.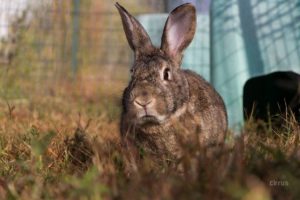 Miss Kitty
Miss Kitty is a gorgeous bunny. She is between the age 2 and 3 and is spayed and ready to go to a forever home. She is a mixed breed bun. She is considered a medium sized bun (but on the smaller end of medium) and her color is known as Agouti.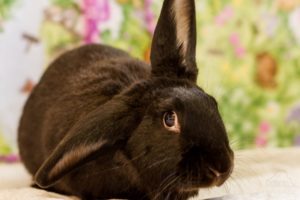 Silvia
Silvia is female lop mix and less than a year old. A gorgeous black bunny with a curious nature. A sweet girl looking for her forever home.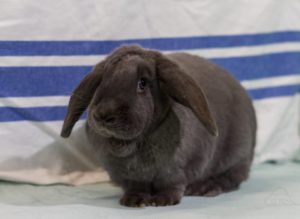 Conrad
Conrad is a super sweet youngster. He loves to play and toss his toys around. He is always pleased when visitors and volunteers stop by to say hello to him. A male lop mix and less than a year old, Conrad is looking for his forever home.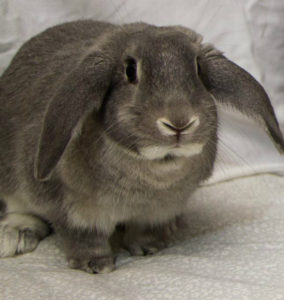 Winnie
Winnie is a female lop mix. She is less than a year old and is a delight. She loves head rubs and attention. Please consider giving Winnie a chance in a forever home.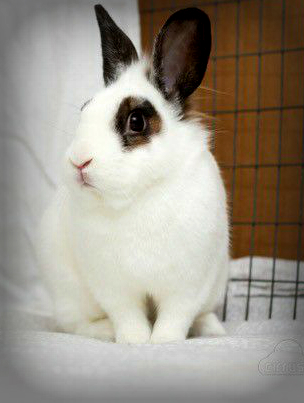 Othello
Othello is a small mixed breed bun. He is a male and less than a year old. A little bundle of energy, Othello proves the saying that big things come in small packages. He is an adorable little guy with loads of personality. He is loving and thrives with attention. Othello is searching for the perfect forever home.
Click Here For Details About Our Adoption Procedure